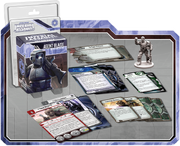 Product Description
Edit
The agents of the Imperial Security Bureau in Cloud City are commanded by none other than Agent Blaise, a cold and methodical warrior and an expert interrogator. With Agent Blaise by your side, you can menace the Rebel heroes in any campaign or strip your opponent of Command cards during a skirmish game.
With an entirely new three-card Agenda set,  new Command cards, additional Deployment cards, and missions for both campaign and skirmish games, the Agent Blaise Villain Pack is your chance to level the might of the ISB against your opponents. This figure pack includes a sculpted plastic figure of Agent Blaise that you can use to replace the token included in The Bespin Gambit.
Components
Edit
Miniature(s)
Edit
Deployment Card(s)
Edit
Command Card(s)
Edit
Agenda Cards
Edit
Skirmish Missions
Edit
Ad blocker interference detected!
Wikia is a free-to-use site that makes money from advertising. We have a modified experience for viewers using ad blockers

Wikia is not accessible if you've made further modifications. Remove the custom ad blocker rule(s) and the page will load as expected.