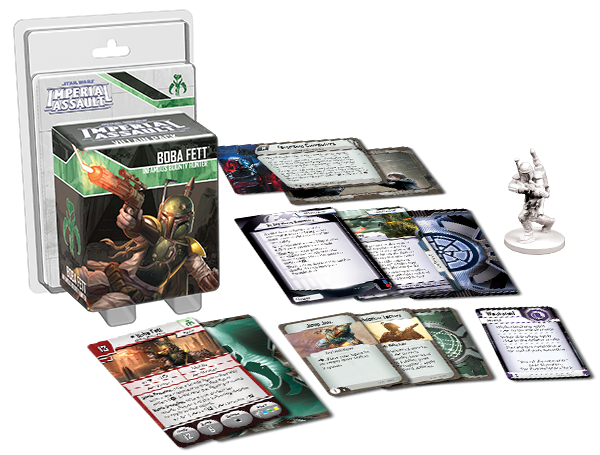 Product Description
Edit
Embark on thrilling new Imperial Assault missions with one of the galaxy's most formidable bounty hunters: Boba Fett! With this deadly bounty hunter at your side, you can bring Boba Fett's fearless inventiveness and vicious skills to every mission – assuming you can afford to hire him.
Like other Villain Packs, the Boba Fett Villain Pack offers essential new cards and missions for both the campaign and skirmish games, alongside a detailed plastic figure required for fielding Boba Fett in Imperial Assault tournaments. For the skirmish game, this expansion offers new Command cards that open powerful new strategies and a new skirmish map with two unique missions. The Imperial player in a campaign game also gains access to a new side mission and a three-card Agenda set to hunt the heroes throughout the campaign.
Included Components
Edit
Miniatures
Edit
Deployment Cards
Edit
Command Cards
Edit
Agenda Cards
Edit
Skirmish Missions
Edit
Ad blocker interference detected!
Wikia is a free-to-use site that makes money from advertising. We have a modified experience for viewers using ad blockers

Wikia is not accessible if you've made further modifications. Remove the custom ad blocker rule(s) and the page will load as expected.