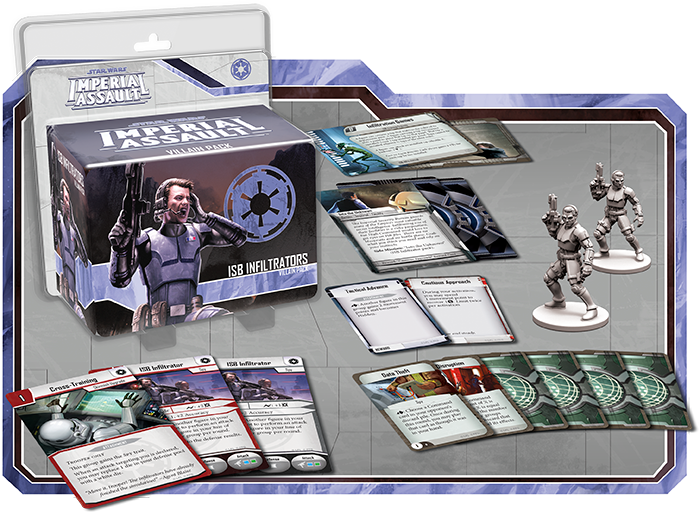 Product Description
Edit
Few Imperial institutions command more fear than the Imperial Security Bureau. The man you pass on your way to work or the talkative woman in the cantina could be an informer. You cannot trust anyone, and in this atmosphere of stifling fear, few dare to speak of rebellion. Enforce the status quo and punish sedition in your games of Imperial Assault with the help of the ISB Infiltrators Villain Pack. 
This Villain Pack adds new materials to all of your campaigns and skirmish games with a new three-card Agenda set, new Command cards, additional Deployment cards, and brand-new missions for your campaigns and skirmishes. Prepare to put the fear of the Empire in your opponents! This figure pack includes two sculpted plastic figure depicting ISB Infiltrators ready for action.
Included Components
Edit
Miniatures
Edit
Deployment Cards
Edit
Command Cards
Edit
Agenda Cards
Edit
Skirmish Missions
Edit
Ad blocker interference detected!
Wikia is a free-to-use site that makes money from advertising. We have a modified experience for viewers using ad blockers

Wikia is not accessible if you've made further modifications. Remove the custom ad blocker rule(s) and the page will load as expected.