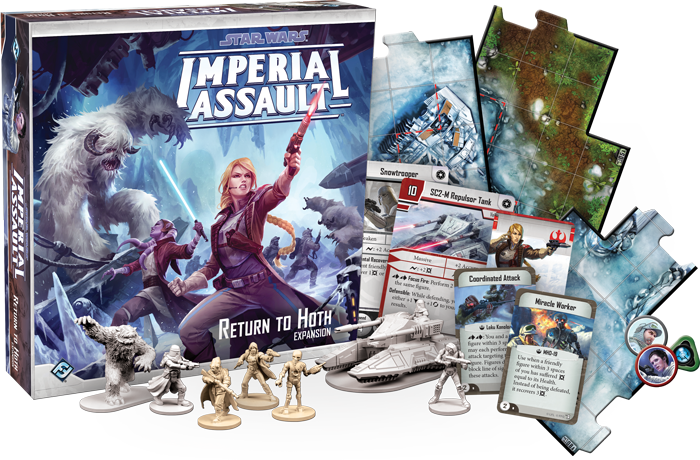 Product Description
Edit
The Rebels' base on Hoth has been discovered by the Empire! As Imperial walkers descend to the surface and the last transports flee, a few heroes of the Rebellion step forward to protect a colony of refugees. Little do they know that their heroic actions will eventually lead them back to the very place from which they fled: Hoth!
Return to Hoth is a new expansion for Imperial Assault, offering plenty of new content for the campaign and skirmish games. A new full-length campaign allows the Rebel heroes to take up a new story in the aftermath of the Battle of Hoth, while new rules for four-player skirmish games invite you to play a massive, multi-fronted battle. With thirty-seven double-sided terrain tiles depicting the icy wastes of Hoth, sixteen sculpted plastic figures to swell your forces, and a host of cards for both campaigns and skirmishes, Return to Hoth changes your games of Imperial Assault forever!
Included Components
Edit
MiniaturesEdit
Loku Kanola
MHD-19
Venera Talos
Imperial
Edit
Mercenary
Edit
HK Assassin Droids [x4]
Wampa [x2]
Hero Sheets Edit
Deployment CardsEdit
Imperial
Edit
Mercenary
Edit
Command CardsEdit
Missions
Edit
Story Mission Cards
Edit
Side Mission Cards
Edit
Threat Mission Cards
Edit
Skirmish Mission Cards
Edit
Echo Base
Hoth Battlefield
Double-sided map tiles (x36)
Figure Packs
Edit
The following are the individual figure packs which were released at the same time as Return to Hoth:
Ad blocker interference detected!
Wikia is a free-to-use site that makes money from advertising. We have a modified experience for viewers using ad blockers

Wikia is not accessible if you've made further modifications. Remove the custom ad blocker rule(s) and the page will load as expected.