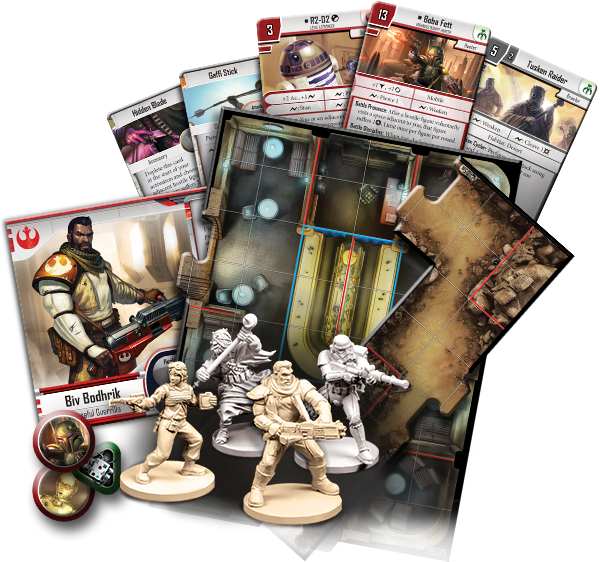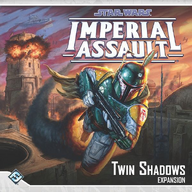 Product Description
Edit
Investigate a growing Imperial presence in Twin Shadows, a new expansion for Imperial Assault! New dangers lurk in every shadow and darkened alley on Tatooine, home of bounty hunters and galactic scum. To make matters worse, Han Solo has disappeared while on assignment in Mos Eisley. Now, a crack team of elite Rebel operatives launches their investigation to uncover the truth behind the Imperial plot.
This expansion offers new content for both the campaign game and the skirmish game. You can play a fully formed mini-campaign that challenges your Rebel heroes to rush to Han Solo's aid or battle through a Mos Eisley cantina in the skirmish game. Two new heroes join the forces of the Rebel Alliance, but Heavy Stormtroopers and Tusken Raiders fight for the forces of the Empire. With ten sculpted plastic figures, twelve double-sided map tiles, and over sixty new cards, Twin Shadows brings new levels of danger and skulduggery to every Imperial Assault game.
Included Components
Edit
MiniaturesEdit
Imperial
Edit
Mercenary
Edit
Deployment CardsEdit
Imperial
Edit
Mercenary
Edit
Missions Edit
Reward Cards Edit
Double-sided map tiles (x12)
Figure Packs
Edit
The following are the individual figure packs which were released at the same time as Twin Shadows:
Ad blocker interference detected!
Wikia is a free-to-use site that makes money from advertising. We have a modified experience for viewers using ad blockers

Wikia is not accessible if you've made further modifications. Remove the custom ad blocker rule(s) and the page will load as expected.